<![CDATA[In der vergangenen Woche haben wir uns ausgiebig mit dem Verkauf von CCP beschäftigt. Dabei gab es allerdings zwei (traurige) Ereignisse, die ein bisschen untergegangen sind aber trotzdem erwähnt werden sollten...
CCP Mankiller verstorben – Benefizverkauf von Skins
[caption id="" align="alignleft" width="266"]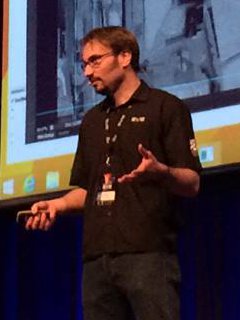 CCP Mankiller präsentiert die Grafik (c)CCPgames[/caption] Vor einigen Tagen wurden Skins zu Ehren von CCP Mankiller veröffentlicht. Er war als Lead Graphics Programmer für alle technischen Aspekte der Grafik in EVE verantwortlich. Sich selbst hat er einmal in einem Gespräch mit mir als "Grafik-Master-of-Desaster" bezeichnet. Sein echt komisches Verhältnis zu Bindestrichen war ebenfalls berühmt berüchtigt und so hat er sich selbst im CCP Entwickler-Interview mit CCP Phantom als "Der-den-Kopf-hinhält-für-alle-Probleme-die-mit-Grafik-zu-tun-haben" oder "Der-sich-um-alle-Wehwehchen-der-Grafiker-kümmert" bezeichnet. Grundsätzlich war er aber ein "Der-auf-alles-eine-mehr-oder-weniger-intelligente-Antwort-haben-muss" – und die hatte er auch! Eine echt wichtige Säule also, wenn es wir als Spieler "unser" EVE nicht nur als Spiel sehen, sondern auch als grafisches Kunstwerk, das es sogar bis ins
Museum of Modern Art geschafft
hat. Seine Laufbahn in der Gaming Industrie hat CCP Mankiller tatsächlich in Deutschland gestartet. Hier war er bei Ikarion an der grafischen Umsetzung von Sacred 1 und Sacred 2 beteiligt. Und auch die fiesen Ishtak von Demonworld gehen auf sein Konto – oh Gott wie ich die Dinger gehasst habe! Krebs ist ein Arschloch! Das Arschloch hat am 2. Juli 2018 CCP Mankiller gepodded. Im Real-Life gibt es keine Klon-Einrichtung. Ich bedanke mich für alles was CCP Mankiller für uns Spieler entworfen hat. Wo er seine Finger im Spiel hatte trifft der Satz "…und er sah, dass es gut war." zu 100% zu. Deiner Familie wünsche ich viel Kraft und einen vollen Energiespeicher! o7 und Fly safe CCP Mankiller
CCP Entwicklerinterview mit CCP Mankiller
Cordite Blosson Skins
---
---
ISD Esthir nimmt seinen Hut
Ein weiteres Ereignis dieser Woche ist der Weggang von ISD Esthir. Weil das RL manchmal doch mehr Zeit einfordert und er nicht mehr so stark für die EVE Community da sein kann, hat er seinen Posten als ISD aufgegeben. Ich habe ISD Esthir in Persona auf dem Fanfest 2017 kennengelernt. Er ist ein ruhiger, angenehmer Zeitgenosse, der nicht nur in seiner ISD Funktion eine Art natürlicher Autorität ausstrahlt. *schleim* Auch bei einem Highlight (
Morgens um 6…
) meiner Island-Reise war er mit dabei und dort ist auch ein Foto entstanden, mit dem ich mich von ISD Esthir verabschieden und mich für seine langjährige Arbeit für die Community bedanken möchte. [caption id="attachment_2393" align="aligncenter" width="584"]
ISD Esthir und die isländische Rettungskatze[/caption] Fly safe and send me a Killmail soon! <3 <3 <3
Welche Erinnerungen habt Ihr an CCP Mankiller? Habt Ihr ihn auch mal persönlich getroffen? Hättet Ihr gedacht das ISD Esthir ein echter Katzenliebhaber ist?
Bis zum nächsten Mal Jezaja]]>